People found strange ways to amuse themselves during the lockdowns. TikTok became huge. Bo Burnham had a strange breakdown, put it to music and added some surprisingly good visuals. Taylor Swift wrote two albums. Everyone decided to eat healthily, promptly forgot, then made banana bread instead. And a lot of people got into online dating.
The demand for dating apps was huge. People were isolated, bored and unable to meet through traditional in-person ways. Even now, there are more users on dating apps than there were pre-pandemic and it's kind of funny to think that 10-15 years ago online dating was seen as weird and nerdy and now it's just normal and responsible.
Now, with more people looking to meet through dating apps, more people have tried to establish their own. Some sites, like Meet 5 and So Synched, were already a glimmer in their creator's eye pre-pandemic, but others have been rushed out to meet the demands of a bored, cooped up population.
It seems unlikely that these companies have long-term strategies
It seems unlikely that these apps will last particularly long. Sure, markets are very difficult to predict, but I just really can't imagine that anyone will want to use a dating app that matches people via their tastes in memes for more than about half an hour. Ways to keep their audience engaged or any actual innovative ideas beyond a quick gimmick.
Of course, every so often people will come up with a genuinely good idea: the founder of Global Dating Insights, Simon Corbett, said "It's often stated that the market is oversaturated, and while that may be the case, we are constantly impressed by the original products that are created on a regular basis".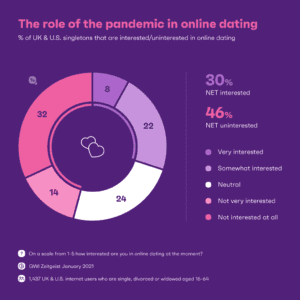 New dating apps are also often afflicted by the same issues that plague start-up social media sites. Namely, if they have a small user base, it's difficult to expand. If you're thinking about joining a social media site, you'll probably look to see if your friends, family, colleagues, favourite celebrities are on it – otherwise what's the point?
Similarly, if you want to join a dating app and you notice that it only has 1k downloads, it might be off-putting because when you remove people you aren't nearby and who aren't interested in dating you, the number of available users drops quite dramatically. That's why sites like Facebook and Tinder which are, really, just not very cool anymore, still have huge numbers of users.
Online dating is going steady
Sure, you might see your ex on Bumble, but there are also millions of other users. If you find your ex on a newer, smaller dating site, their profile might be half of your potential matches. Speaking of new social media sites and their ties to dating apps, we've noticed a rise in dating apps linked to TikTok.
Yes, the site was active pre-pandemic but it only really blew up when everyone was stuck at home, bored. Now it's worth $250 billion. Unsurprisingly, a lot of people have wanted to piggyback off TikTok's success, and sites like Snack, which describes itself as a "Tinder meets TikTok" dating app. Snack isn't alone: a lot of new and existing sites are attempting to link themselves to TikTok with either similar short-video reels as part of users' profiles or just directly allowing users to link their profiles to their TikTok accounts.
You have to wonder if this would work. So many people scroll through Instagram's Reels, YouTube's Shorts or TikTok and find them mildly interesting, amusing, and diverting. But I don't know if I'd actually care enough to want to talk to the creators, or other people who use the site. I might leave the odd comment, but I probably wouldn't look for the love of my life there. New dating apps need to have something to make them stand out from the crowd, sure, but if their USP doesn't actually set people up, it won't become popular and will fail pretty fast.
So where does this leave us? I think that, unfortunately, a lot of pandemic dating apps are ultimately doomed. They've been rushed out without the planning that most companies require and they're marketing themselves for a time that's largely passed. While it is still possible that we might have future lockdowns, people can still try to go back to meeting through friends and families and little coffee shop meet-cutes.
People can enjoy being vaccinated and fill their time with all the things they missed, and not worry so much about a dating app that was tacky with a weird gambit and nothing to suggest that users would be compatible with their matches.