If you're like me, it's likely that you've had a few negative experiences on dating apps. For most people, these experiences tend to involve things like dates with boring conversations or people catfishing you. However, a recent report from identity verification website Social Catfish reveals the frequency with which scammers target individuals on dating apps and merits considerations for protecting yourself against fraud.
The report revealed that online scammers stole a total of $4.2 billion from Americans alone in 2020, a figure that is rapidly increasing. In fact, in 2017, 2018, and 2019, the total stolen was $7.6 billion, meaning that last year's amount was more than half of the prior three years combined. Now, it is important to note that these figures include scammers operating on all types of websites and apps – not just on dating sites. However, the report did reveal a number of concerning aspects regarding dating sites specifically.
The lies romance scammers tell
Specifically, it was established that there are three major types of sites that online scammers will frequent in order to find victims: social media platforms, dating sites, and gaming apps. Once on the site, the goal of the scammer is relatively simple – they play the long con. Scammers will attempt to build relationships with their victims at first before asking for money. The script is relatively simple and follows something known as the "scammer's playbook." Knowing about the patterns these scams tend to follow can help you spot them and protect your own money.
On dating sites, scammers will create fake profiles in hopes of matching with prospective victims. They will then spend the next few days or even longer seeking to build a relationship. Oftentimes, they pretend to fall in love with their victim while attempting to win them over. Once the trust is there, the ask comes. Scammers will typically come up with a sob story to tell their victims, providing a reason why they suddenly need money. This is typically an emergency such as a medical crisis, to care for a family member, or to purchase travel to meet you. They will also sometimes find reasons to ask for gift cards, cell phones, or other things of value.
While most people likely think that they cannot easily fall victim to a scammer on a dating site, the reality is that when emotions become involved, people tend to let their guard down. There is a reason why dating app scams are so lucrative. According to the Social Catfish report, the dating apps that are most often targeted by scammers are Plenty of Fish, Match.com, OurTime, Zoosk, and Tinder.
Important tips for staying safe from dating app scammers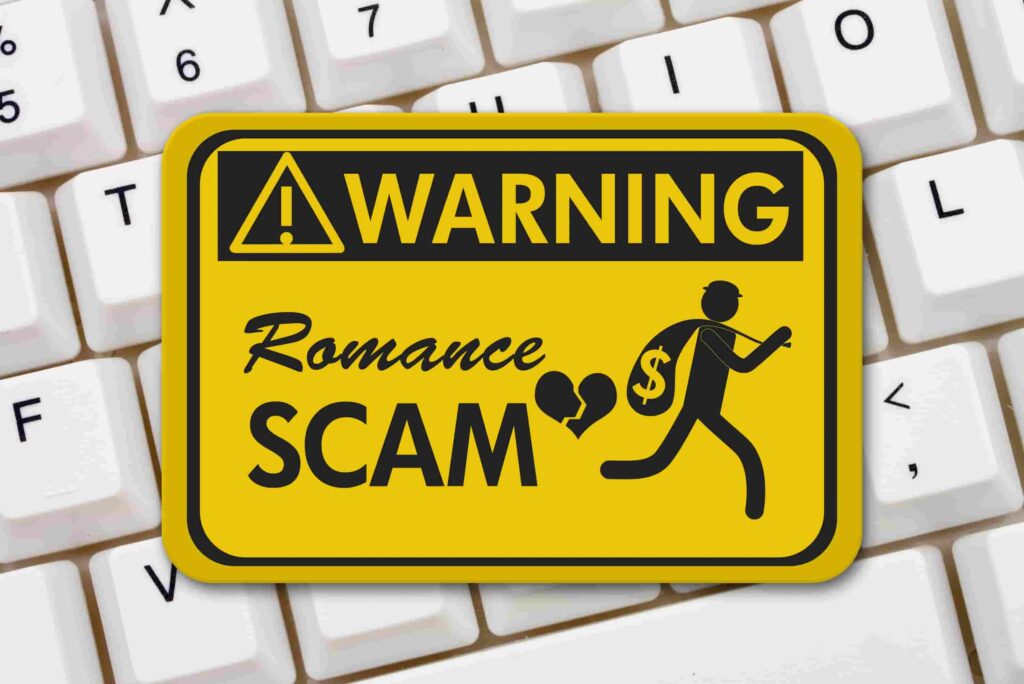 "Love bombing" is a term that refers to someone having strong feelings about someone way too soon. It is often seen as a sign that someone may be possessive or controlling but is also a tactic frequently used by online scammers to gain your trust. If someone that barely knows you is being way too over the top with compliments or pretends to fall in love after a few conversations, this is a sign to be on alert.
Be cautious of people who want to take the conversation off the app very soon
Most dating apps have built-in safety features that allow people to report concerns that someone may be a scammer. To avoid getting reported, scammers attempt to take conversations off the app rather quickly. Typically, the person will say that they rarely check the app or something similar, implying that the dating app is an inconvenient way to communicate. In reality, if someone is interested in talking to you, they will open the app and communicate. Pressuring you to take a conversation off app – particularly to methods popular with scammers like Google Hangout and What's App – is another warning sign.
Be wary of emergencies that lead to asking for money or goods
The biggest sign that you are being scammed is a request for money. If someone has a devastating story, it is highly likely that it is just that – a story. Sending money to people you meet on dating apps is not a good idea. And if someone asks for gift cards or some other item of value, it is almost a guarantee that it is a scam.
Verify their identity
If you have concerns that someone on a dating app may not be who they say they are, the easiest way to ease your concerns is to verify their identity through a video chat. In fact, many dating apps are introducing the ability to video chat directly from the app interface, providing this beneficial security feature.
Online scams are a huge industry, fraudulently taking over $4 billion last year from people in the United States alone. When using dating apps, it is important to know the signs of a potential scammer and be cautious if behaviors seem alarming. Doing your due diligence and being sure never to give personal information or money to people you meet online will help you stay protected from fraud.