Luckily, there is an online dating app called Bumble, which is a social network app designed specifically for women. Several months after the first edition of this popular dating app was launched in India, the app has brought back the stand for safety initiatives. A second digital safety handbook will be created in partnership with CSR and Nyaaya. In addition, Bumble is explicitly banning unsolicited derogatory comments about appearance, body size, or health in its terms and conditions.
To deal with digital safety issues, the dating app already offers a few features. An in-app Safety + Wellbeing Centre is a resource hub that automatically detects and blurs unsolicited nude images and a Private Detector system that also detects and blurs unsolicited nude images. Users can also choose to create a dating profile using only their name's first initial, allowing them to share their full name later if they wish.
The Bumble India Safety Guide
In collaboration with Nyaaya, the Center for Social Research (CSR) created Stand For Safety to make people aware of online abuse, bullying, and discrimination and to provide support. People who are facing online hate and discrimination will be able to access simple, actionable information contained in the Bumble digital handbook.
Earlier this year, Bumble released its first safety handbook aimed at identifying and reporting online harassment. On the Bumble website, you can find the second edition of the handbook on digital safety, which covers topics such as emotional abuse, inappropriate behavior, body shaming, discrimination, identity-based harassment, and gaslighting.
Also included in the handbook is a section detailing your rights as a citizen. It includes information on your legal rights, punishable offenses, and how to report them. According to Bumble's nationwide study online harassment has affected people across the country. In the study, fifty percent of people have encountered hateful content online, and one in four women have been victimized at least once a week by negative comments and online abuse.
The Purpose of the Campaign
In this campaign, the main objective is to make the app's continued global effort toward creating a respectable and safe digital environment a success. In an independent open access digital resource, Nyaaya has created a handbook to provide people with simple information about laws and legal rights to exercise in case of online discrimination or hate.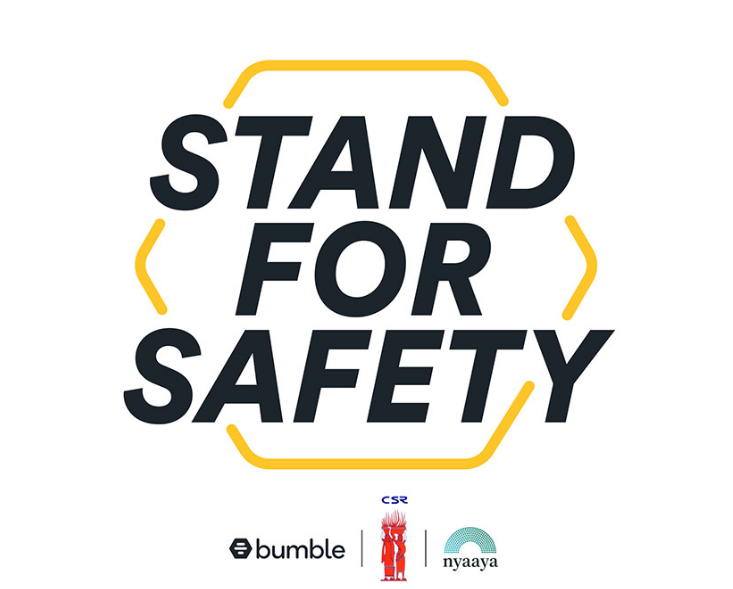 This campaign can help our society and community recognize and compact online abuse, harassment, and discrimination by providing them with powerful information.The mission of Bumble is to provide kindness, equality, and safety as core values in addition to being an entertainment application.
With the 'Stand for Safety' initiative of the app, healthy and equitable relationships are created. A study conducted by Bumble shows that online harassment is affecting people across the country, and the following findings stand out:
At least once a week, 1 out of 2 people (50%) encounter hateful content online, and 1 out of 4 women witness negative comments about their appearance.
Approximately 40% of people surveyed said they had experienced online hate speech and bullying regarding discrimination against a particular group or community or their physical appearance.
Almost half of the respondents (52%) reported feeling angry after being subjected to online hate and bullying.
People have difficulty trusting others because of online hate and bullying, according to 48% of respondents. There were more than half female respondents in this group.
The safety handbook launched by Bumble is a significant step in the digital world, and its purpose is to empower users with the right tools to enhance their online safety. For their efforts to make the internet kinder and safer, especially for women and other marginalized communities, I congratulate the Bumble team and the partners of  'Stand for safety'.
Conclusion
In collaboration with Nyaaya and the Centre for Social Research, Bumble has launched this one-of-a-kind safety handbook that will empower our community to recognize and combat online abuse. The core values of Bumble are kindness, respect, inclusivity, and equality, and safety has been a central part of the company's mission since its inception.
Providing a healthy and equitable environment for all relationships is at the heart of their 'Stand for Safety' initiative.Bumble's initiative makes the Internet a safer and kinder place for women and other marginalized groups.Bumble's Safety Handbook is a vital step in the right direction, that empowers the users with the right tools to fortify their well-being while navigating the online world.