If you're in a diner with a friend or a family member, it can be fun to look at the other couples around you to try to work out if they're on a first date and how it's going. Does he keep checking his phone? Is she playing with her hair? Will they sleep together later? Is it a blind date? It's a good way to pass the time whilst you wait for an overworked chef to prepare your linguine. Now, Dating App Bumble has come up with an innovative new idea which will, tragically, put an end to my judgemental game.
They're opening a restaurant in New York which, you could assume, will be frequented almost exclusively by people matched on the app. Bumble Brew will open in late July 2021, after their initial launch was postponed due to the pandemic. The general idea was to make everything as date-friendly as possible… which seemed to mean 'no spaghetti on the menu' because, delicious as it is, spaghetti is the worst dish to eat on a first date – aside from anything that gives you gas. They've since relented and added a fancy-sounding dish which seems pretty close to spaghetti in case, I suppose, anyone wants to re-enact Lady and the Tramp.
I don't know if having a woman nudge a meatball towards you with her nose is as romantic in real life as it is in cartoons, but it's great to know that someone is attempting to run that experiment. Aside from (spaghetti) saucy shenanigans, you might wonder what Bumble Brew has to do with Dating App Bumble. Sure, going to dinner is a traditional first-date idea, but given that Bumble's whole gambit is bucking old dating customs, you'd assume that the users would opt for 'alternative' interactions, like, well, whatever young, single hipsters do in New York, over a stuffy meal.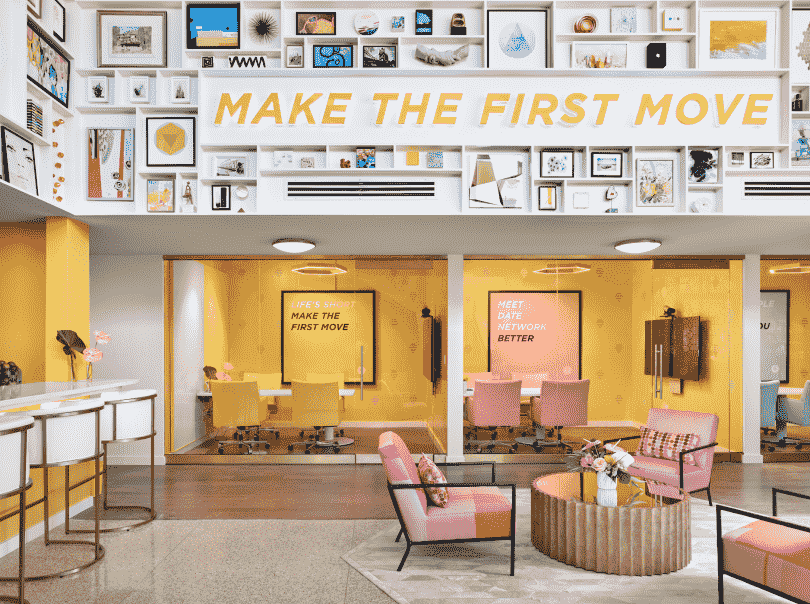 Fortunately, Bumble Brew does have a cocktail bar, which seems much more appropriate for anyone who needs a bit of Dutch courage before getting weird with someone they met online. They'll also be running Bumble Hive events: talks, seminars and wellness classes which certainly sound interesting, but don't seem to have anything to do with actual dating. Perhaps all of this is an effort to 're-conceptualise' Bumble. I've always thought of them as a dating app and, if you surveyed people randomly, they'd probably agree with that descriptor. But as they move into more fields, it appears that they are trying to become some kind of corporate social movement.
This does make sense, because anyone who's successfully used their app is probably in a relationship, which means they're not a customer any more. But there are no rules about Bumble's other enterprises: you can attend Bumble Hive events if you're married, and you can go to Bumble Brew with your friends. This way, Dating App Bumble can be part of your life regardless of your relationship status, so they don't lose you as a customer if you stop online dating. At the moment, Bumble Brew NYC is the only one. But if it works well, the company might consider opening others, possibly in Austin, Texas.
A lot of restaurants end up losing money and closing soon after they open, but with Bumble's money behind them, Bumble Brew might be able to survive the first tricky months and start turning a profit. By then, Bumble Brew might have learnt and adjusted their formula so further locations may very well follow. If Bumble Brew becomes a host for Bumble Hive and that's successful, the company might look at opening Bumble Brews in cities like London, where other Bumble Hive events happen.
All that is a way off – first, Bumble Brew NYC has to outlast the pandemic, which has closed many diners and eateries. But they've already delayed opening by two years, so it's not ridiculous to assume that the managers are keen to finally get Bumble Brew launched and begin bringing in some kind of dough. For now, Bumble Brew seems a long way away from most of the app's users.