We all dream of finding love. From the initial feeling of butterflies to the joy of being in a loving, supportive relationship, there are few things better. However, many people find themselves unexpectedly single later in life. Perhaps you are divorced or your partner passed away. Maybe you simply never found Mr. or Mrs. Right. Many people ask if love exists after the age of 50. Let's take a look at this question.
Secrets to Finding Love After 50
The answer to this question is of course it does! After all, many of us will remember being young children and seeing the love of our grandparents. For many of us, that was one of the hallmarks that showed us the importance of relationships. Love can absolutely exist after 50. However, what you are really asking is whether it is possible to find new love after 50?
This can be a difficult thing. Let's be honest, the dating world is very difficult. It is even more difficult now that technology has taken over as the main pathway to meeting people. These are themes frequently discussed by people as young as their 20s. It is likely a bit more difficult for people my age as the available choices of potential partners are a bit smaller. However, finding love after 50 is certainly possible. Many people do it every day.
The next question that people undoubtedly have is how to find love. Later in life, the pathways can look quite different. After all, many people do not have strong networks of single friends like they do earlier in life. So how do you find love after 50? Here are some tried and true recommendations for meeting that special someone.
Love Who You Are
This is an important yet difficult aspect for many people. We all have our little quirks and parts of our bodies that we don't like. Learning to accept these while changing the ones we want to change is an important thing. It can also help to do a little bit of examination regarding why our previous relationships did not work. If there is a major issue such as trouble with communication, working on that will be important for meeting and succeeding with someone in the future. Balance an appreciation for who you are while working on important soft skills like communication and confidence.
One of the main reasons people struggle to find potential partners is that they simply don't go outside. We can often get stuck in our routines. With online dating, it is particularly easy to simply sit at home and swipe on potential partners. However, many fulfilling relationships occur after meeting someone in real life or grow out of friendships. Leaving the house will help you naturally meet other people. Find different activities you enjoy to participate in. Of course, all of this comes into play once you are safe from COVID.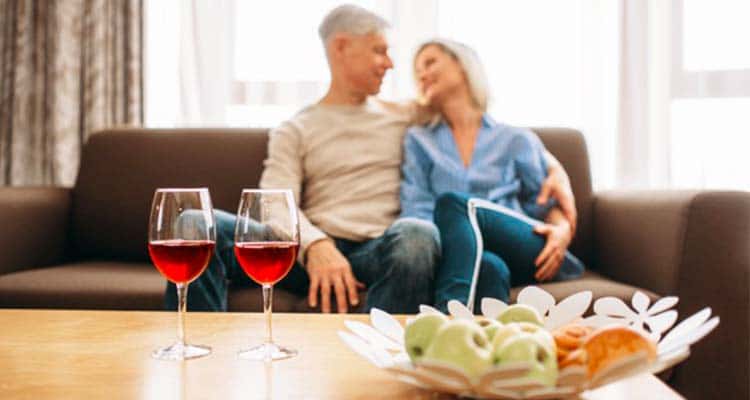 Think About What You Want in a Partner
If you want a healthy relationship that will succeed, it is important to do a little soul searching regarding what you want. You should make two lists in particular. One is the red flags. These are things you absolutely do not want in a relationship. They may not be negative things but simply things that do not fit in your life. For example, if you want to spend your retirement traveling, someone that doesn't travel may be a red flag for you. Additionally, you'll want to create a must haves list. This is where you'll list the most important things you want in a partner.
It is important to pay close attention to this list. Is something a must have or simply an added bonus? What is absolutely crucial to a relationship for you? Your must have list will usually be fairly short but filled with traits you value. The biggest mistake people make when dating after 50 is to date like they are still in their 20's. You probably don't want to go out with a different person every night. Instead, you probably want to take some time to get to know someone you genuinely like. This can lead to more fulfilling dating. Dedicating time to truly getting to know someone is a great way to see if you think you'll be compatible.
Love after 50 certainly does exist; it just takes some extra effort to find at times. As you embark on your journey for love, get out of the house and engage in activities where you'll likely meet people with similar interests. This is a great starting point. Be sure to engage in a bit of introspection as well as this will help you as you move forward. While it may take time, there is someone out there who is just right for you. Those butterflies are perhaps just around the corner.