It is exciting to meet new people, however, you must take caution when communicating with strangers on a dating platform. When you exchange a message or meet in person, prioritize your safety. It is impossible to control how others behave, but you can take some actions to stay safe while using dating apps such as Tinder.
How Safe Are Dating Apps in India?
In India, dating apps have been linked to a variety of crimes, ranging from assaults to murders. There is a general feeling of uneasiness about meeting strangers through apps even in countries that are issuing ultimatums to dating apps to improve safety for users. Tinder and other dating apps aim to change this.
Through a partnership with CSR, a non-profit organization, Tinder has developed a dating safety guideline for online daters in India. An educational guide about online dating safety in India is created based on the insights, research, and expertise of the NGO.

Tinder has Announced a Dating Safety Guideline for Online Daters in India
Tinder announced it would launch the dating safety guideline for online daters in India, partnering with the non profit CSR or Center for Social Research.
As part of its dating safety guide, users in India are reminded of the community guidelines, ways to make use of the app's security features, and how to understand important topics such as welcoming a community that is inclusive, consent, and sexual health, as well as the recently enhanced reporting process.
As part of the guide, users will be able to learn how to make the most of their dating experience as well as stay alert, both online and offline.
Using dating apps such as Tinder safely has never been easier than with this well detailed guide. Dating apps should be used responsibly, with thoughtfulness, and with respect.
The Director of the Centre for Social Research, India, Ranjana Kumari, stated how happy they are to work with Tinder to foster a stress free dating means for Indian youths as part of their joint mission to promote online safety and digital wellbeing.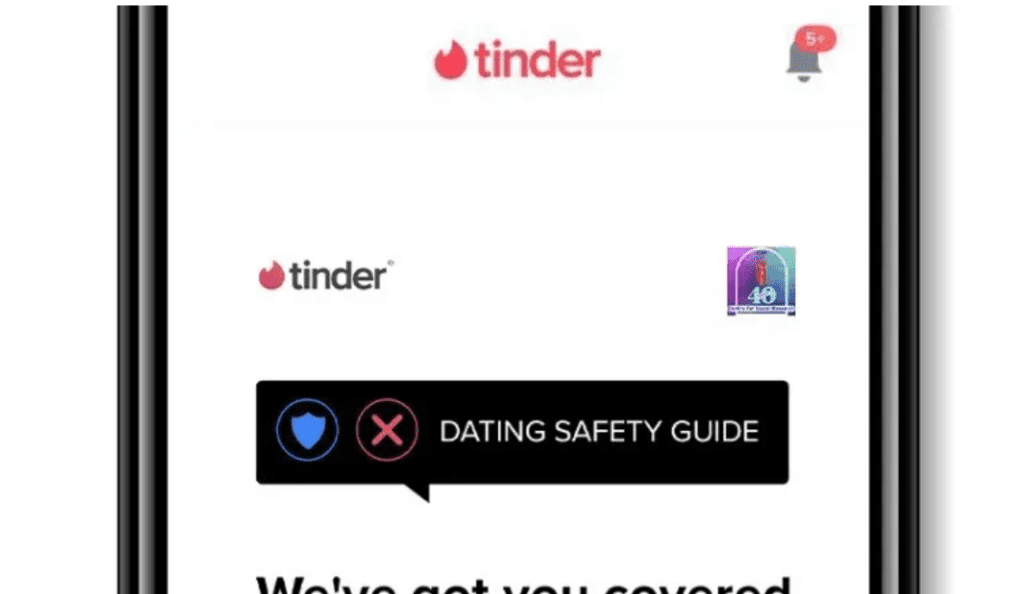 Every aspect of Tinder revolves around safety. In addition to a robust set of safety qualities, including inn app education, Tinder is constantly investing in ways to keep its users safe.
"We hope that this guideline on safe dating will be an important document for people as they become more aware of the safety tools and resources available on Tinder," says Tinder India's Head of Communications, Aahana Dhar.
On Tinder's website as well as CSR India, the safety guidelines on dating will become available to everyone. They also intend to promote this guideline in the Tinder app for Indians through an online card that will direct those on the app to resources on online safety. CSR India will also send the guide out to their broader beneficiary network along with their newsletters and emails.
With Tinder's updated AI features, as well as its continued investment in safety, the company continues to emphasize safety.
Additionally, Tinder has recently introduced a new set of community guidelines that outline the good behaviors that lead to the best experience for everyone on the app, including Block Contacts and Photo Verification.
Besides reporting suspicious accounts, Tinder also allows users to block users who misbehave. Users can report profiles regardless of whether they have matched with them or not.
Safety Tips When Communicating on Tinder
Matches who want to immediately jump off the app and chat somewhere else – or worse, if they want to meet up immediately – are big red flags.
It'll be nice not to have your phone number on hand in case a match goes south. Also, you won't have to worry about scammers impersonating you.
It's also a red flag if they aren't interested in meeting up or video chatting on the phone. Using dating apps, romance scammers pretend to be someone else to get money from people.
As a result, do not give out your personal information (such as your bank account details) or send money to a match. A person who is on the app for the same reason as you are – to date! – will not ask for either of those things.
When you wire money, it's almost impossible to reverse the transaction or track its location. Your financial information should never be shared with anyone who could access it. Report any requests for money from another user immediately.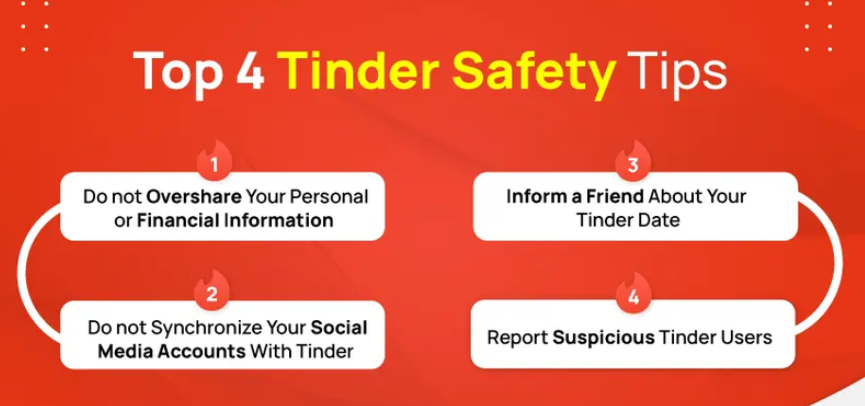 Report All Suspicious and Offensive Behavior
People know when they've crossed the line, and Tinder wants to know when they do. Violations of Tinder's terms should be blocked and reported.
A few examples of violations are as follows:
Donation or money requests
Users under 18
Threats, harassment, and abusive messages
Behaving inappropriately or harmfully during or after a meeting
Deceitful profiles
An attempt to sell products or services through spam or solicitation.
You should take note of how alcohol or drugs affect you particularly – both can influence your response and judgment. Hold your ground when the person you are on a date with attempts to make you do things you are not comfortable doing.

Conclusion
Members and users of dating apps or a site such as Tinder in India must follow safety guides and safety features while trying to meet new people for the safety of its users.
The best guide to safe online dating works if at least half of all users on online dating platforms or on a dating site abide by safe online dating practices on those apps by avoiding a block profile, chatting with only a verified profile, and only responding to an in app message.
Tinder is slowly becoming the most commonly used dating site in India. You can find features that let people find potential dating partners.