The current online dating climate is filled with many dating sites where you can hope to find love. This includes niche sites for people looking for virtually anything. One subset of these includes dating sites aimed at people hoping to find an age gap relationship. I recently reviewed the Gaper app, one app that aims to help people with this goal. Today, I will take a deeper look at the AgeMatch app, which has a similar goal.
What is the AgeMatch app?
The AgeMatch app is geared towards helping users find an age gap relationship, typically defined as dating where one person is much older than the other. These most typically consist of an older man and a younger woman. While these types of relationships may be somewhat taboo, the AgeMatch app celebrates age difference, viewing it as simply a number.
AgeMatch is a dating app that is a good fit for people seeking serious relationships with an age gap component. It is not really known as an app for hookups. It also is not the venue for those seeking a sugar-daddy sugar-baby relationship; however, users do report running into some people under the impression that they can find a sugar daddy on the app. Instead, AgeMatch is aimed at people looking for age gap dating.
Features of AgeMatch
One of the core things that determines whether or not a dating app will be successful is the various features that it offers. With AgeMatch, there are many features aimed at helping users find love. One feature that tends to be fairly highly rated in AgeMatch reviews is First Date Ideas. Here, members can post their ideal first dates in order to help spark a conversation, ideally leading to an actual date in the future.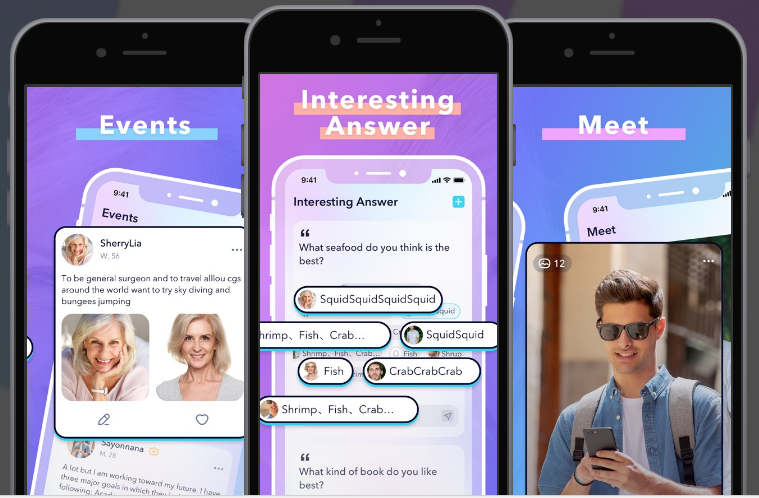 Spark is another feature on the AgeMatch app. This can be best understood as somewhat of a swipe-based way of browsing through users. An algorithm sends you potential partners. Once you take a look at their profile, you can either select like or pass. This is a convenient way of using the site for people who have very little time to intensely search profiles.
Some of the strongest features of AgeMatch are its safety features. The company employs a team of professionals that work to manually review each profile and verify identity. Additionally, there is a section of the app dedicated to dating advice and safety tips in order to help ensure members stay protected when meeting someone.
What Is It Like to Use AgeMatch?
This app is relatively easy to use. In fact, the signup process was a breeze. Users are able to quickly start browsing profiles on the site, which is nice after the long and tedious registration struggles some services put you through. There do seem to be many attractive women on AgeMatch, and I was pleased to see many near me.
When scanning profiles, it would certainly appear that the women on the site tend to trend younger in nature. This is not necessarily surprising as many sites that specialize in age gap relationships tend to feature older men and younger women.
One benefit of AgeMatch is that they give you fairly significant options for free use. While this won't help you connect with someone, it will give you an opportunity to get a sense of whether or not you like the site before shelling out money. Free users can view profiles, search, comment on profiles and blogs, and even participate in forums. You can even read messages sent to you.
Taking full advantage of the app means becoming a paid member which allows you to initiate chats and messages, respond to messages, see who likes your photos, and get additional data and insights into other users. The basic cost is $29.95 per month for a one-month membership but becomes cheaper per month if multiple months are purchased at once.
For those who prefer to access dating sites on a desktop instead of a smartphone, the user interface for AgeMatch is very strong on both. In fact, the site recently shifted its design for a more user-focused landing page. This means users can transition from their computers to phones easily, getting a similar experience on each.
AgeMatch Review: The Verdict
Ultimately, AgeMatch is a fairly good site for those seeking an age gap relationship, particularly if you are either an older man or a younger woman. There are plenty of free features that allow you to make a determination of whether to become a paid member before having to commit. It also provides many innovative ways of connecting through message boards and other conversation starters. While the app is not perfect, its benefits definitely do outweigh the negatives.