Online dating is getting popular by the day — and for good reasons.
Finding the perfect date, having fun, and even looking for your perfect partner can be done from the comfort of your couch now. However, is this method even reliable? When you're online looking to have some fun, is there a site that can actually do it?
Well, you might have stumbled upon the Flirt.com popular site and asked yourself – is it reliable enough?
Well, that's exactly what you will find out today! By the end of this Flirt.com review, you will know whether you can trust Flirt to find what you're looking for.
But before we begin, how you do know if you can trust this Flirt.com review among the tons of other Flirt.com reviews scattered online? Well, we publish in-depth reviews of dating companies often and have been doing it for a long time. We conduct extensive research in the online dating industry to publish the best content for you.
That said, it's time to dive right into the Flirt.com review.
Rating Of Flirt.com
| | |
| --- | --- |
| Membership Cost | |
| serbase | |
| Сustomer support | |
| Interface | |
| Free Options | |
| Design | |
| Avg. User Rating – 4.5 | |
A Little Sneak Peak
Spoilers alert: Flirt is indeed a solid online dating platform for casual hookups. It's got a nice set of features that let you browse great profiles and get matched with relevant people in your area. Plus it offers multiple features to interact and talk to them.
While it's not completely free, the paid version is worth it. There are not many sites that offer such plentiful features at such an affordable price.
Who is Flirt com for?
As we begin this Flirt.com review, you must be wondering, "What if this site isn't even made for me?" — because let's be honest, everyone has different views on what they need from online dating.
Some look for serious relationships; eager to get matched with the love of their life and get married. Others look for super casual hookups where they can simply flirt and have fun.
As the name of Flirt suggests, these sites are made for people in the second category mentioned above.
It's ideal for people who want to find someone to have fun with and don't come across them ever again; essentially a no-strings-attached kind of relationship.
However, that's not to say Flirt can't get you love. As many experts say, "Love starts with flirt". So, your flirting practices on Flirt.com can eventually lead you to find the love of your life. But — don't go in with that mindset. People on this site are looking for fun. You trying to be serious can ruin the mood!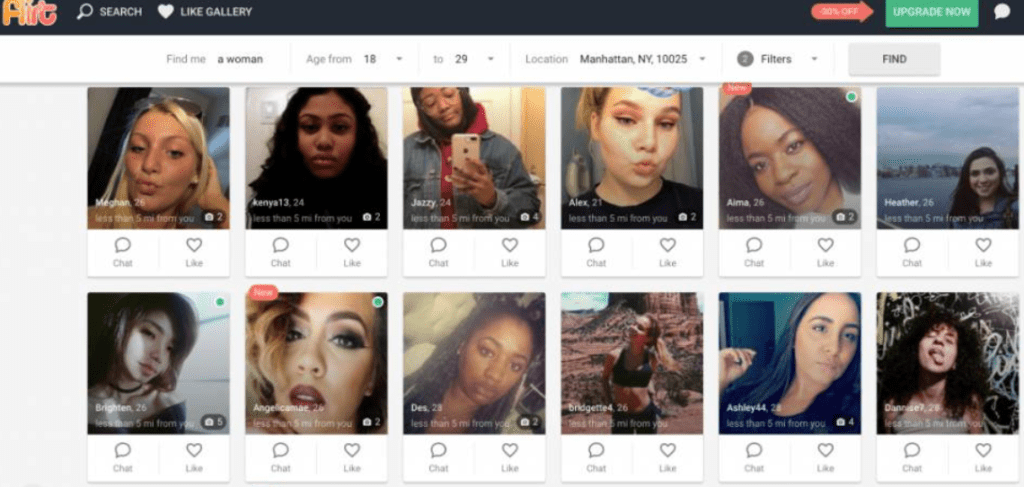 Is It Equally Good for Men & Women?
Many Flirt.com reviews fail to address the usability factor for women. A lot of sites out there simply try to attract their male user base more, which isn't a good look at all.
Luckily, Flirt are equally good for men and women. The site comes with features that are equally useful for men and women.
In fact, the site holds a huge female population, which goes to show how popular it is among women.
In short, Flirt com is suitable for:
Men looking for casual hookups with females.
Females looking to have fun with men around them.
Men and women looking for an affordable and value-packed online dating solution.
People who like online dating in general and are comfortable putting themselves on the web.
People who want an instant dating solution; something they can use on the go and instantly get matched.
People who're looking for a big pool of matches to choose from.
Features Overview
So, what features does this site offer? Well, that's what we're going to talk about in this section of the Flirt.com review.
Modern & Intuitive UI
A bad user interface can instantly turn users off. Luckily, the dating app comes with a clean, minimal, and modern user interface that appeals to everyone.
Even though the site doesn't have a mobile app on Android or iOS, the site itself is good enough that you won't miss the mobile apps. You can access the site from your computer, mobile phone, and even your iPad. The design is responsive, which means it adjusts to different screen sizes easily.
Lastly, you can access the site from any browser, like Google Chrome and Safari. You will have the same modern and clean UI, no matter which device you log in from.
Fewer but Meaningful Features
The dating site doesn't come with tons of features, which is a good thing in our experience.
Unnecessary features can complicate the overall user experience and turn users off. People don't like using apps that are hard to navigate and find the features they want.
Instead, Flirt comes with a handful of features that are essential for an online dating/fun app.
Flirtcast
Flirtcast is the best feature when you have no clue what to do and simply want to break the ice.
What it essentially does is send a pre-written message to multiple matches at once. That's right, it makes matchmaking so easy that it's kind of automatic at this point.
The best part about it is that you don't have to come up with oneliners and write/send them to each match on your own. It will be sent to everyone simultaneously, making you very effective at what you're doing.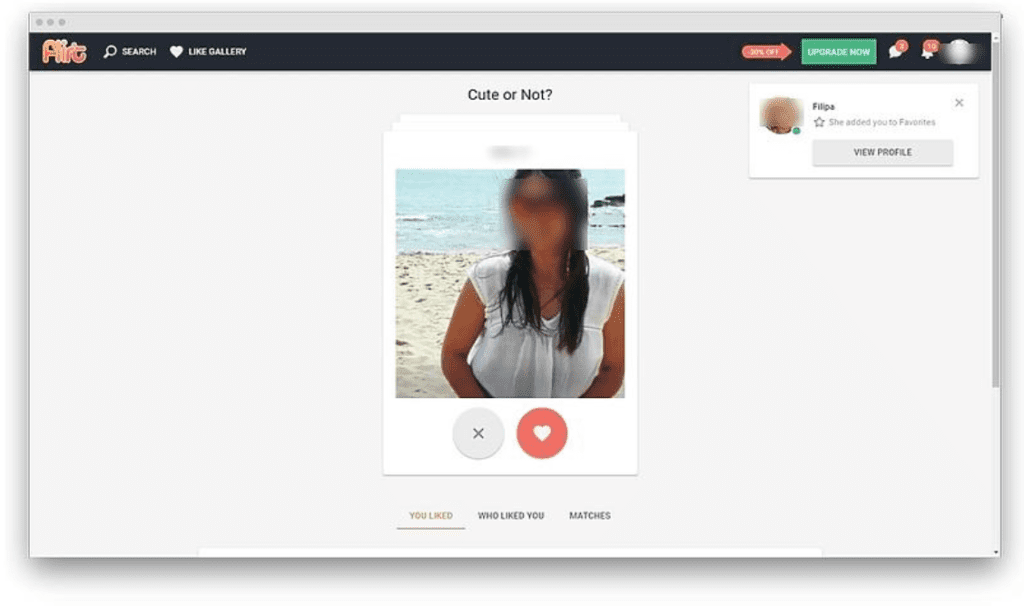 Like Gallery
It's understandable that some people won't like the idea of sending messages to multiple auto-generated matches at once. And that's completely fine!
Flirt has an intuitive feature that does the exact opposite. It shows you relevant matches one by one with their full-screen photos. From there, you can decide to put the match in your likes list. You can also see when others have put you on their list, which makes matchmaking much more relevant for everyone!
Info Request
Interested in someone but they simply don't have enough info on their profile to urge you to message them right away? Well, they've got a feature for this situation, too.
Instead of taking a leap of faith, you can ask the user for more info using the Info Request feature. It does exactly what it says: asks the user for more information. The user will see the request and can decide to comply or not.
Profile Videos
You can add an introductory video to your profile, and others can, too. This is a no-brainer feature, as it helps everyone on the platform see that you're a human and not a random ghost.
Plus, a video is the best way to see someone online. The way they talk and move can say a lot about them, and this info can help boost the quality of matches.
Video Chatting
Last but not least, when you've found someone you like, you can chat with them through messages and/or start a video chat.
Video chatting is a nice way to get to know someone and understand if they're the right person to have fun with. When you're done video chatting, it's up to you to take it from there and sail the boat your way!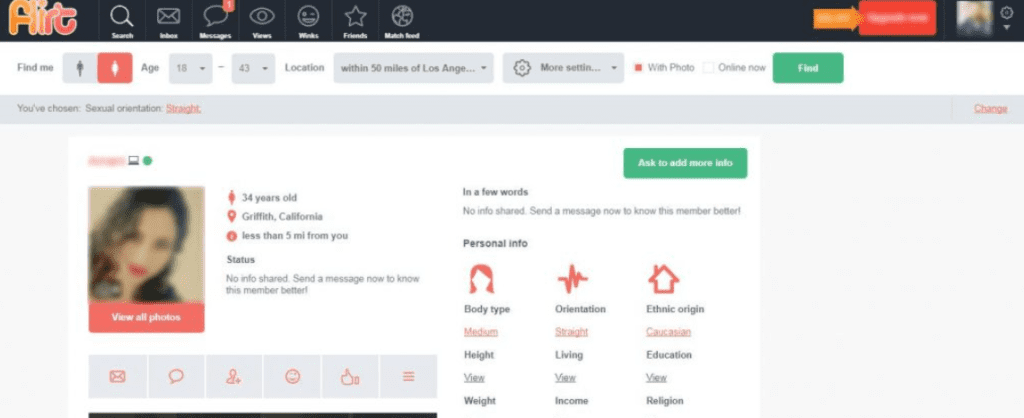 How to Get Started With the Service?
A Flirt.com review is incomplete without proper information on how you can get started with it. And that's what this section is about.
Signing up for Flirt com is as easy as it gets. Both sites have the signup page right at the front of their homepage. All you need to do is visit the site and fill in your information to get started.
You need to fill in information like your gender, age, and what you're looking for. After that, you can start the free trial right away.
After your free trial ends, you will have to get the Premium version to continue using the full functionality of the app.
Is Flirt Free?
Flirt is not completely free to use. But let's be honest, nothing is!
Both dating sites come with a free version with limited functionality, which doesn't offer much. Then, you get a free trial for the Premium version, which you definitely should sign up for. It's free, so why not.
After you've completed the trial, it's roughly $38 per month for the Premium version, which isn't much for the features it offers.
How Much Does Flirt.com Cost?
| Type | Length | Price | Total Cost |
| --- | --- | --- | --- |
| Premium | 1 month | $27.30 | $27.30 |
| Premium | 3 months | $15.30 | $45.90 |
| Premium | 6 months | $12.27 | $73.60 |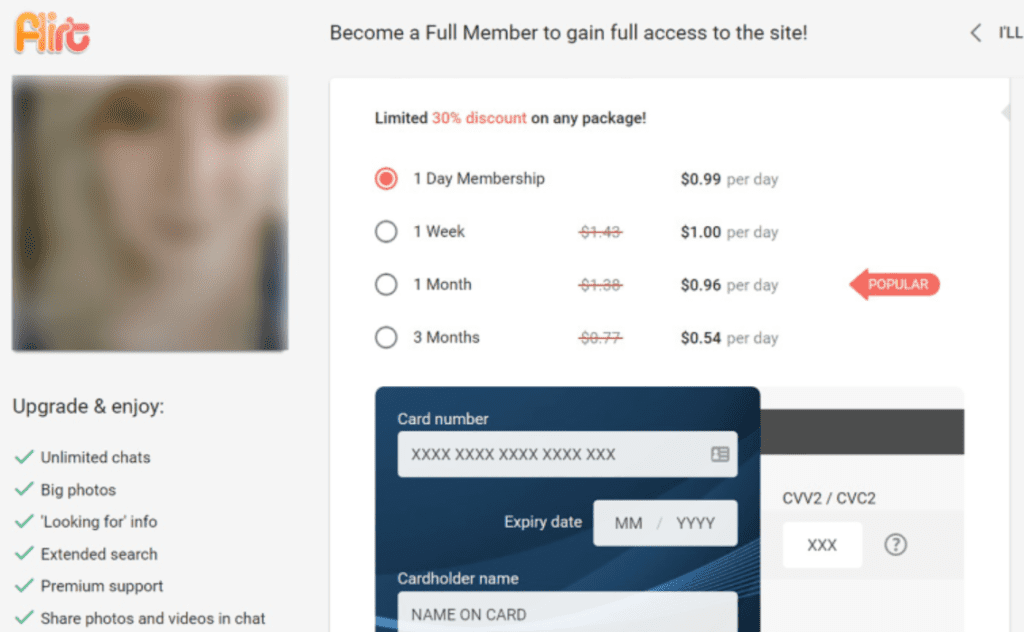 Pros & Cons of Flirt.com June 2023
At the end of our Flirt.com review, let's take a look at the pros and cons of these popular dating sites.
Pros
Comes with amazing features. No unnecessary jargon.
Fewer but more meaningful features, leading to a simple UI.
Lets you automatically get multiple matches at once, or like individual profiles one by one.
Tons of matches to choose from, thanks to the big user base.
Works on mobile devices, computers, tablets, and any other device with a web browser.
Quite affordable.
Cons
It's not free. But that's understandable. No service comes free of charge these days.
There's no Android or iOS app. However, the mobile version of the site is very functional, so you won't miss the app much.
Final Verdict
As most Flirt.com reviews suggest, this dating app offers insane value to anyone looking to have some fun with local matches. It comes with meaningful features that make matchmaking so simple and intuitive.
It's suitable for males and females alike.
All in all, Flirt.com is well worth the affordable price tag it comes with.
Flirt.com FAQ
Q: How does Flirt.com work?
A: Flirt.com works by allowing users to create profiles, search for other users based on various criteria, and send messages to those they are interested in. The site also offers features like a Like Gallery, which shows you photos of other users and lets you choose whether you are interested in them or not.
Q: Is Flirt.com free to use?
A: Basic features on Flirt.com are free to use, but the site also offers premium features like the ability to send unlimited messages and access to premium search filters for a fee.
Q: Is Flirt.com safe?
A: Flirt.com has security measures in place to protect user data and prevent fraudulent activity, but it's important to use caution when interacting with other users online. Be sure to report any suspicious activity or behavior to the site's support team.
Q: Can I use Flirt.com on my mobile device?
A: Yes, Flirt.com has a mobile app that you can download and use to access the site from your smartphone or tablet.
Q: How do I delete my Flirt.com account?
A: To delete your Flirt.com account, go to your account settings and select the option to delete your account. You will need to confirm your decision before the account is permanently deleted.
Flirt.com June 2023 – Is Flirt.com worth it? 6 things to take into consideration!
CUSTOMER REVIEWS

by Morris May 08, 2022
This dating website is excellent in terms of functionality and design. It's effortless to come across genuine people with fascinating personalities. I've found many captivating profiles, and I would say that photos and videos are crucial as they present individuals in the best light. The chat window on this site is exceptional, with all the necessary buttons conveniently located. You can execute any function with just one click, which prevents breaks and interruptions caused by poor internet connection

by Carolyn Beck May 27, 2022
I decided to sign up for this website to explore who's available and compatible. I was curious about how online dating worked and how I would feel when messaging strangers. To be honest, I thoroughly enjoyed the experience, and this site makes connections feel as natural as meeting someone in a café or a mall. In no time, I had great success with this service. Although the site's pricing policy isn't too strict, it's still affordable. In return, I had lots of fun and opportunities to meet some amazing people with hot personalities.

by Loretta May 21, 2022
I had an amazing experience with this website. Words cannot express how grateful I am for finding my perfect match. It has been a game-changer for me. I am thrilled about our upcoming date, but for now, we are enjoying the convenience of chatting online. It feels like a lifeline for those who cannot meet in person yet.

by Carmen Mar 14, 2022
I have been using this service as a registered user for three years, with some breaks in between. Based on my experience, I can confidently say that the team running this website is highly professional and attentive to their users' needs. They seem to know their stuff and are committed to providing a great user experience. The site's interface is intuitive and straightforward, making online dating feel natural and authentic, with no gimmicks or games. Of course, there will always be some strange people you might want to avoid, but that's true for any dating site or real-life encounters. It's essential to keep an open mind and not get discouraged by a few bad apples. I have connected with many interesting and attractive people who are looking for different types of relationships. Some prefer to stay online and chat, while others are open to meeting in person. I respect everyone's preferences and have made some great friends along the way. Lastly, I appreciate that this site offers a platform to explore sexual connections that are healthy and consensual. However, it's important to note that not everyone is just looking for casual hookups. Overall, this site is accommodating to everyone's needs and preferences.

by Johan 25, 2022
I recently met a really attractive guy on this site. We didn't hit it off right away, but it was clear that we had a connection from the start. Overall, I have nothing but positive things to say about this website. However, I have noticed that some people struggle with finding success in dating online. My advice would be to avoid building unrealistic expectations and to approach interactions with others on the site with caution and common sense. With a level-headed approach, you are more likely to find good matches to consider.

by Penelope 15, 2022
This application is fantastic, and most of the profiles seem genuine. I did come across a few profiles that seemed suspicious and likely to be fake, but I simply moved on. While I enjoy online dating, I do understand that there can be some oddballs or fake profiles out there. Additionally, the other features of this site are also noteworthy. The app runs smoothly without any freezing, glitches, or other issues. The payment system provided on this site is also convenient for me. I highly recommend this app to anyone, but I also believe that everyone should use it responsibly and with good judgment.