Anyone who has spent time on online dating apps has come across fake accounts. For many of us, they are now relatively easy to note. But what happens when a subscription-based dating app decides to entice unpaid customers to subscribe by using bots to their advantage? The answer lies in a 2019 case against Match Group Inc, and a recent decision should put all online daters a bit more on guard.
How the Match App Marketed to Customers
Match Group Inc. is perhaps the most well-known of the dating app companies. After all, it owns most of the popular dating sites including Tinder, Hinge, OK Cupid, Plenty of Fish, and more. However, the company's name originates from its very first entry into the dating app arena, Match.com.
Unlike most popular sites which use a freemium model where the dating app is provided for free but users can pay more in order to access premium features such as seeing who likes them, Match.com was largely subscription-based in the sense that anyone could create an account and browse profiles, but you had to become a paying member in order to communicate. Thus, the Mach app was incentivized to encourage people to subscribe.
The Match app utilized many different strategies in order to encourage people to make a subscription to their service. Among the different strategies was sending e-mails to members noting that they "caught someone's eye" and encouraging them to subscribe in order to see who it was. This would allow them to see who was interested in them and begin communicating with them. At face value, this is a helpful type of marketing; however, it turned out to be used in a concerning manner.
The Case Against Match Group Inc.
In 2019, the Federal Trade Commission filed suit against Match Group Inc. based on their practices relating to the Match app. They alleged that the company was using deceptive and unfair practices that also exposed consumers to risk of fraud. In doing so, they sought to recover up to $844 million in losses for consumers.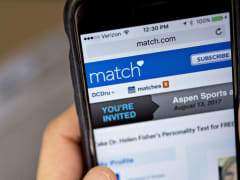 The complaint centered around the "you've caught someone's eye" marketing e-mails. These e-mails often were generated to non-subscribers when a known bot or fake account sent them a message or expressed interest in their profile. However, current subscribers only received the "you've caught someone's eye" e-mails when their account was engaged with by an account that was not known to be a bot or fake account. Thus, it appeared that the Match app was well aware of the existence of bots on the site.
Match Group Inc. Wins in Suit
A ruling was recently entered in the 2019 lawsuit against Match Group Inc. where the Federal Trade Commission sought to recover funds from users who argued that they were tricked into subscribing by these e-mails generated by actions of fake accounts. The decision was not a commentary on the ethics of the Match app's actions but rather a bit of a technicality due to other laws.
Ultimately, Judge Ed Kinkeade of the U.S. District Court in Dallas dismissed the majority of the lawsuit based on the Communications Decency Act. In rendering this decision, Judge Kinkeade noted that the Communications Decency Act protects publishers of third-party information. Since the Match app was simply a publisher of accounts created by others, he granted them immunity from the suit, ruling that the FTC could not seek to recover any damages.
What This Means for the Online Dating Industry
The result of this case should bring about concern for online daters. While the decision would certainly make sense in the event that the Match app was not knowledgeable about the fact that users were being enticed into subscriptions by fake accounts, this was not the case.
It was revealed in the lawsuit that while non-subscribers received e-mails triggered by known bots and fake accounts, existing subscribers did not receive e-mails triggered by these bad actors only received ones triggered by accounts thought to be real people. This bit of information suggests that Match Group Inc. not only knew about the fraudulent accounts but took action to reduce their interaction with paid members. Thus, the fake profiles on Match were leveraged to their financial benefit, placing potential subscribers at risk of fraud.
This sets a dangerous precedent for online dating apps to be able to act in a misleading and unethical manner while being protected at a time when hundreds of millions of dollars annually are being extorted by romance scams. Users should be increasingly wary of the possibility that the party on the other end of a dating app interaction is not authentic. Users should practice good safety practices and familiarize themselves with the typical signs of scams. Additionally, users should be more hesitant to trust solicitous marketing claiming people are showing interest in them. This decision has ultimately made online dating a more dangerous place.