We live in a time where there are countless niche dating apps that help match people from virtually every conceivable demographic. From Gluten Free Singles to Farmers Only and Marry Me Already, there are so many hyper-focused dating apps that you are probably asking, "do we really need another?"
I would have happily noted that the answer to that question is "no, we absolutely do not" until last week. With the launch of the Stir dating app, Match Group has tapped into a neglected subgroup that genuinely needs its own app: single parents.
Why Was the Stir Dating App Launched?
Before digging into the various features of the app, it is useful to talk about the reasons why this app is needed. First, dating as a single parent can simply be exhausting. There are many drawbacks to the process. For example, some people simply see single parents as a dealbreaker. This seems to be more common for women than men but is something I have encountered as well. In fact, 20% of single parents have been ghosted after a match finds out they have kids.
However, when looking at compatibility, being a single parent brings many issues to the table that are not things everyone on sites like Tinder, Hinge, and OKCupid needs to consider. For example, single parents have to consider parenting styles, openness to potentially being a stepparent one day, and a wide variety of views on children.
Additionally, perhaps the biggest stressor for single parents seeking to date is scheduling. Single parents like myself cannot always jump onto last second plans. In fact, even if we love being spontaneous, half of our time typically requires careful planning to ensure that childcare and parental obligations are met. Simply put, children come first which often makes connecting on dates seem like a bit of a bureaucratic process.
What is the Stir Dating App?
Stir was recently launched by Match Group, perhaps the most well-known name when it comes to dating apps. In fact, if Match Group sounds familiar, it is because they own many other popular dating sites such as Tinder, Hinge, OKCupid, and Match.com. In other words, Match Group carries quite a bit of expertise into the market in terms of creating something people enjoy.
The Stir dating app is not the only niche site where single parents can find dates. In fact, Single Parent Meet Mobile has existed for years and will serve as Match Group's primary competition for this niche market. However, reviews for Single Parent Meet Mobile have historically been very poor and it has not really caught on in capturing the market share. Thus, while Single Parent Meet provides an alternative, it is one that has not had great growth over time.
Stir Dating App Review
While many single parents like me are a bit over trying out new dating apps, I was encouraged by the positive press that Stir has been getting. Since it launched a week or so ago, Stir dating app reviews have consistently been positive, with it sitting around four stars on most review sites. This seems to put it in the ballpark with sites like Tinder and Hinge.
It was really quick to set up an account on Stir, requiring just a few photos and a bit of information. Stir's algorithm pairs users with potential partners. Instead of using the swiping feature on sites like Tinder, Stir has users either press a heart or an X to indicate whether they are interested or not.
The Stir profiles themselves are largely focused on photos for the initial impression, which is similar to most dating sites, so having your best photos is certainly imperative. In fact, a typical Stir profile will show a person's primary pic along with their response to a short prompt. Diving into the profile will reveal more photos and information. The app is very user friendly and people familiar with Match Group's other apps will acclimate to it pretty quickly. It makes it easy to go through profiles relatively quickly.
Stir uses the Freemium model which is popular with the most popular apps. You can use it for free but can subscribe to access specific features like the ability to see who is interested in you and being able to boost your profile. You can also buy some features individually like packs of Super Likes.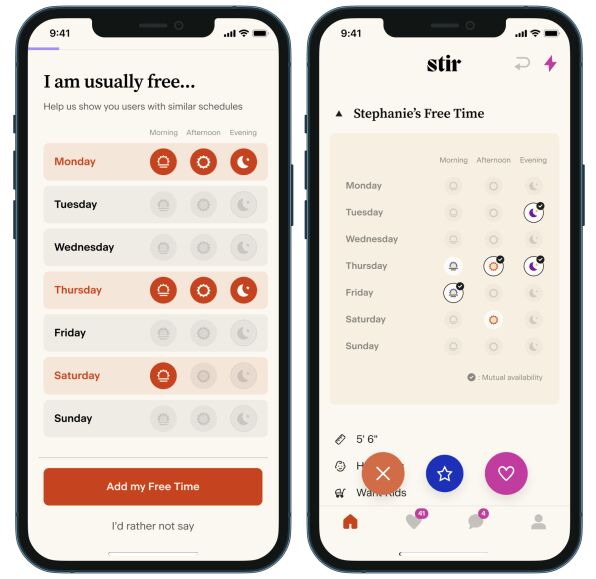 However, the core aspect that makes Stir stand out for single parents looking to date is the Stir Time feature. This much advertised feature allows single parents to set specific times where they are free to chat or date. For each day of the week, you can click if you are free in the morning, afternoon, or evening. This allows you to quickly see if the schedules of your matches are compatible with yours and is an excellent feature, making planning dates go a bit easier.
Ultimately, in a world filled with niche dating apps that seem purposeless, the Stir dating app is certainly a worthwhile site for single parents to try out. With familiar user interfaces, a free to use model, and features like Stir Time that adds convenience, Stir is a niche dating app that can capture a large user base. If you are a single parent looking to date other single parents, I highly recommend trying out Stir, which you will find a much-improved option than other sites out there like Single Parent Meet Mobile.