Match Group is by far the leader in the online dating industry, having amassed somewhat of an empire of apps. Match Group's current holdings include a myriad of companies such as Tinder, Match.com, OkCupid, Hinge, Plenty of Fish, Our Time, and countless other brands. Despite holding such a significant chunk of the online dating business, Match Group stock saw a significant fall in 2021.
Match Group Stock Falls While Market Thrives
A look at the stock market, in general, shows steady growth over the course of 2021. For example, the S&P 500 index surged 26.9% over the year with largely stable growth with the exception of a slight stagnation in October.
However, Match Group stock could best be described as extremely volatile during that same period. Over the course of the year, the stock frequently bounced back and forth from up 10-15% to down 10-15%, illustrating a bit of a roller coaster performance for investors.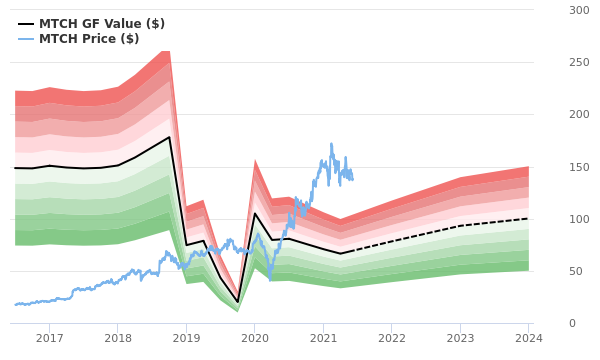 While the company saw more positive than negative performance during the first quarter, the rest of the year saw Match Group stock become increasingly variable in performance. After briefly surging to its highest point of the year in late October ($175.53), it closed out the year on a downward trend, ultimately ending 2021 down 12.5%.
A Tale of Two Years
2020 was an excellent year for the online dating industry in general and Match Group's stock reveled in that success. At the beginning of 2020, the company's stock sat at $82.77. By the close of the year, it was at $151.19, representing a tremendous gain of 82.7% over the year.
However, 2021 would not fare as well for Match Group stock. The closing bell on December 31, 2021, saw Match Group stock at $132.25, representing a loss of 12.5%. This struck many as surprising given the organization's historical dominance of the online dating industry.
Additionally, Match Group's stock saw a significant decrease at a time when online dating was still seeing increased success. With the pandemic still in full force as waves from the Delta and Omicron variants hit, online dating saw a surge of interest. In fact, Match's own Singles in America survey found that the majority of app users are prioritizing searching for a relationship more than before the pandemic began.
Why Match Group Stock Fell in 2021
Thus, when attempting to read the tea leaves surrounding Match Group's financial performance, turning to their financial statements will potentially help shed some light into why Match Group's stock fell in 2021 after such a stellar climb the year before.
Match began the year fairly strong, only missing its projected earnings per share by a singular cent. It saw a 19% increase in revenue, reaching $651 million. Despite this, the stock fell slightly, which was viewed at the time as a bit of overreaction by investors.
Meanwhile, the second quarter earnings report was very solid. Revenues of $668 million beat estimates of $650 million with most of the growth driven from Tinder which surged 18% in revenue. During this period, earnings per share of 57 cents beat the forecast of 40 cents yet the stock only increased three percent based on this news.
Despite being added to the S&P 500 index in September, joy was short-lived as Match Group's stock closed out the year in a decline. This was largely driven by third quarter performance which missed projections. Specifically, Match Group returned earnings per share value of 43 cents, much lower than the forecasted 60 cents.
Should Investors Worry about Match Group's Stock?
When thinking about the long-term picture of Match Group's stock, it is important to realize that investing is more of a marathon than a spring. While the 2021 performance is concerning, the company remains in a good position, owning many of the top apps in the online dating industry.
Additionally, Match Group has consistently taken an aggressive stance in acquiring new properties, which was once again revealed in 2021 with their acquisition of Hyperconnect, a Korean startup. Hyperconnect produces two apps – Azar and Hakuna – which focus on one-on-one video chatting and live broadcasting.
Hyperconnect's claim to fame is the ability to provide video chats with live translation services, enabling people from different languages to interact. In fact, Hyperconnect has a rapidly growing revenue, reaching over $200 million in 2020 alone. This acquisition should strengthen Match Group's performance in the Asian online dating market.
Speaking of the Asian online dating market, the slow recovery from COVID-19 in countries like Japan can be cited as one of the reasons for Match Group stock's unexpectedly lower performance in 2021. While business in the United States and Europe was strong, other markets have not recovered as quickly.
Ultimately, despite the drop in value in 2021, Match Group's stock is positioned well for long-term gains. While it may very well continue to show volatility during the pandemic, the online dating market as a whole is projected for significant long-term growth. With Match Group as the de facto leader in the industry, its stock should also be primed for strong performance over time.