Crimestoppers Warns Against Romance Fraud; Promotes Tip Line
Most people who are informed about online dating have heard about the prevalence of romance fraud. In fact, some of you may have had your own encounter with a scammer trying to steal your money or information. The trend is a lucrative criminal industry where thieves work a long con to defraud people of their money. 
In the United Kingdom alone, it is estimated that the average romance fraud victim loses $12,000 over the course of their contact with the scammer. Collectively, nearly $120 million is stolen from UK victims through these bogus romance scams each year. Recently, Crimestoppers has partnered with the City of London to help educate people about the signs of romance fraud. 
How Romance Fraud Operates
Romance fraud scammers typically follow a fairly specific playbook. They will use online dating apps, social media, or other methods to make contact with someone seeking a romantic partner. They typically use stolen photos and fake personas in order to make a connection. These are often long cons, where a scammer defrauds a victim over weeks if not months, building a close relationship before asking for money.
People who are speaking with a scammer may not notice that something seems amiss at first. However, observant people will note a number of warning signs that romance fraud is potentially occurring. Crimestoppers recently released a comprehensive list of things to look for that are often signs of romance fraud.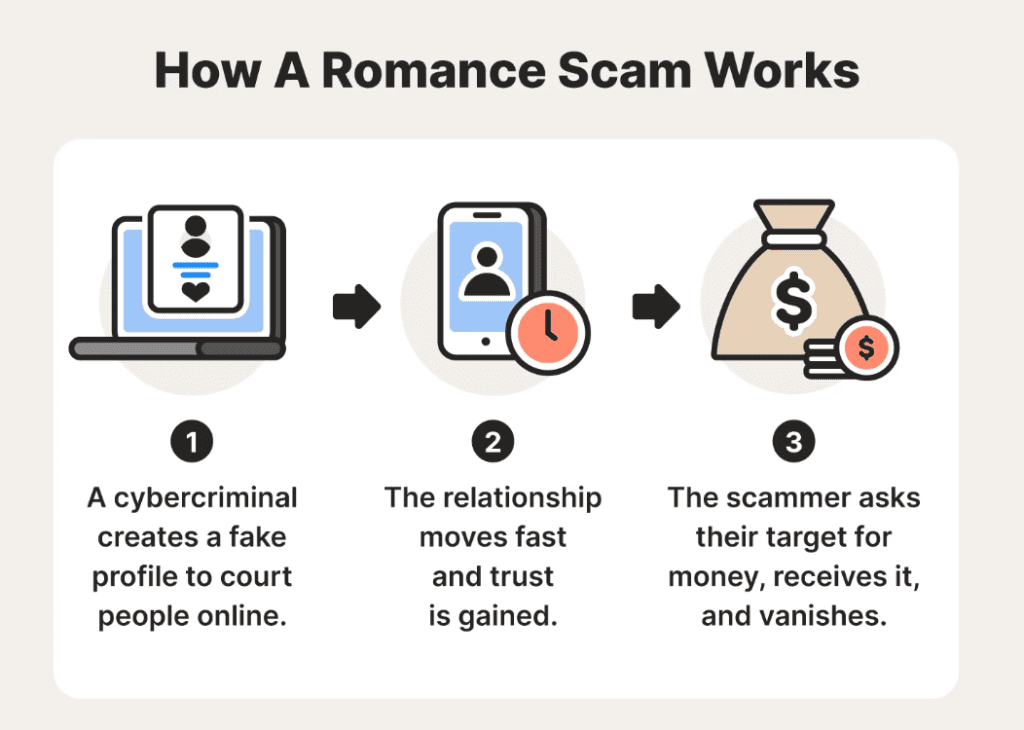 Warning Signs of Romance Fraud
Love bombing is one of the most common signs of romance fraud. This occurs when a person quickly expresses their love or strong feelings for someone despite not knowing them for very long. Love bombing is often paired with pleas to keep the relationship private and not tell friends or family members. This is done in order to reduce resistance to the scam. 
Another common sign of romance fraud is when someone refuses to meet in person, often making excuses. Common excuses deal with emergency situations, living abroad, or being temporarily abroad for work. Scammers will typically also make excuses as to why they cannot video chat or speak on the phone. The desire to quickly move a conversation to a different app is also a common warning sign.
When a romance fraud thief is ready to ask for money it almost always involves a need that would be seen as an emergency and would pull at a person's heartstrings. These asks often include issues such as medical needs, dealing with political unrest, helping a child, or needing to get documents in order to visit. They will typically put extreme pressure on a potential victim. 
Could Someone You Know Be a Romance Fraud Victim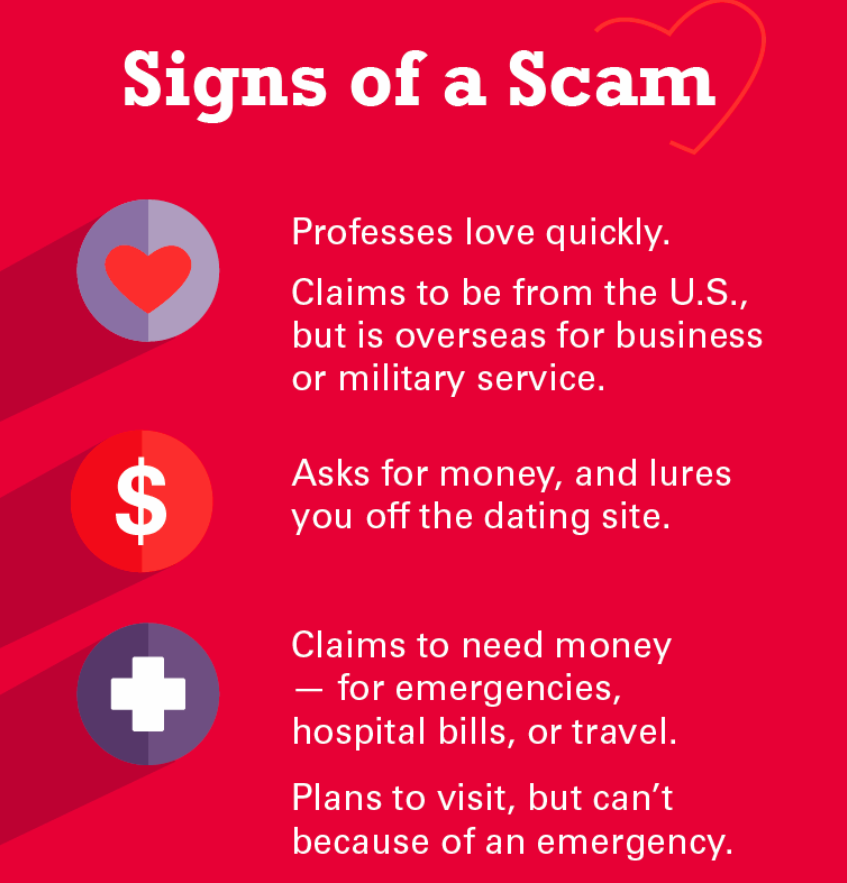 If you consider yourself to be well educated on the signs of romance fraud scams, you may still want to be on the lookout for friends or family members who may be victimized. There are a number of signs that could signal that someone you know is in the midst of romance fraud.
If someone becomes suddenly withdrawn or secretive about their life, there is a possibility that they may be speaking with a scammer. This is because romance fraud thieves typically ask victims to keep the connection between the two of them in order to limit outside interference.
Another sign that someone may be being victimized involves a sudden interest in their finances or a sudden lack of money. Unexplained money transfers or large purchases of gift cards are also a red flags. These are signs that someone may be involved in romance fraud and has already made a payment to a scammer. Thieves will continue to solicit money for as long as a victim provides it. 
Avoid Becoming a Romance Fraud Victim
Fortunately, there are many ways that you can prevent being a victim of romance fraud. Be aware of the signs discussed above. It is important to understand that online appearances can easily be deceiving. Operating with a healthy degree of skepticism when dealing with online connections is generally good. 
Additionally, it is important to never send money, password information, identification documents, or other confidential information to someone that you have met online. A request for information such as this is perhaps the most notable sign of a scam.
When it comes to friends and family, helping to educate others about signs of romance fraud can be a good way to spread information and help protect your loved ones. If signs of romance fraud are spotted, they can be anonymously reported to Crimestoppers at 0800 555 111.