AI Dating App Uses New Technology to Help Matchmaking
Have you ever felt like finding love online is just too difficult? Have you struggled to build connections over messages or to get dates? This is a common experience for many people in the modern world. Blush, a new app launched by the creators of Replika, aims to help people strengthen their relationship skills, leading to better matchmaking on dating apps.
What Is Blush?
Blush is a new app from the creators of Replika. For those unfamiliar, Replika is a popular chatbot billed as the "world's best AI friend." This chatbot was AI driven and many people report that it seems almost as if communicating with a human. In fact, many users utilized Replika as a virtual girlfriend to provide companionship. 
Blush is an app that allows creators to take their AI a bit further in order to help online daters practice their relationship skills. It serves as somewhat of a dating laboratory where users can match and chat with different AI characters. In other words, it serves as a dating simulator that uses AI to power conversations.
When users download the app, they will find over 1,000 different AI characters, referred to as "crushes." They can choose crushes to converse with in order to practice social skills, relationship skills, and flirting. Each AI character has its unique personality, allowing people to broaden their ability to practice interactions.
What Led to the Launch of Blush?
Blush ultimately stemmed from the company's experience with Replika. Replika began as an AI friend that was designed to be an empathetic listener. However, many users viewed the AI chatbot as somewhat of a virtual girlfriend.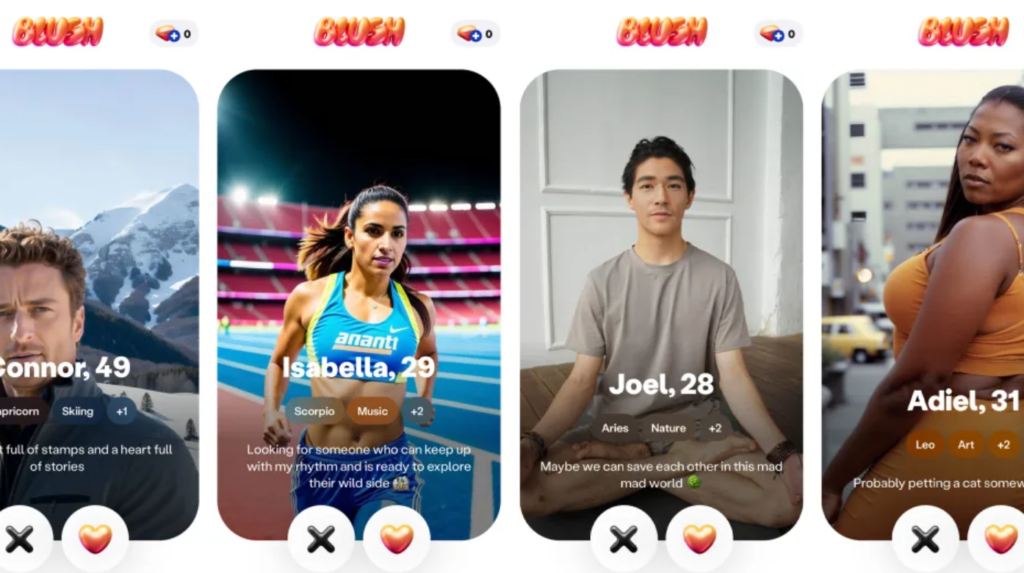 After romantic and sexual conversation options were removed from Replika, the company heard complaints from many users who utilized Replika to practice having intimate moments. This ultimately led to the idea of designing Blush, a roleplay AI chatbot experience that allows users to improve social skills.
Developers worked with Melissa McCool, a psychotherapist that specializes in couple's therapy. She helped with the design of the backstories of the various characters, the structure of conversations, and how to inject conflict that can naturally occur in relationships. The overarching goal of the Blush team was to produce an AI dating app that allowed users to get over the anxiety of getting to know someone.
Features of This AI Dating App
There are a number of features that users can tap into when they start using Blush. Of course, the primary feature is to practice engaging with different personalities and relationship styles. The app will provide personalized guidance to help users better reflect on their own needs and their communication abilities.
As a safe space for AI dating, the app allows people to experiment with flirting and conversation. They learn what works, what doesn't, and how to approach real world situations more confidently. This online dating laboratory could be quite useful for people who feel they need more practice with interpersonal skills of a romantic nature.
However, some users may also find that their interactions with the characters in Blush can provide similar benefits as those with the company's original AI chatbot, Replika. As users continue to "get to know" the AI characters, they can find a sympathetic ear and virtual companionship. The company notes that those seeking out connection and emotional support may find this as a tangential benefit of the app.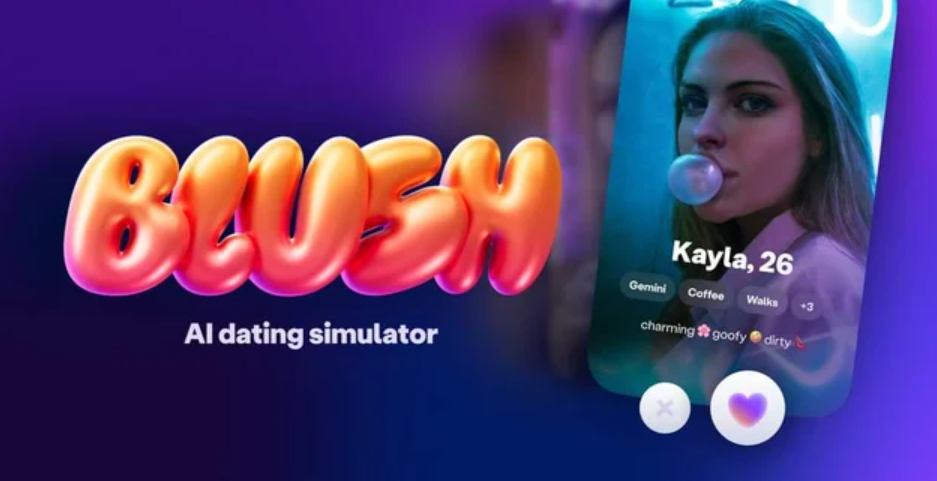 Who Can Use This AI Dating App?
Anyone over the age of 18 who wants to improve their relationship skills can give Blush a try. The app was designed as a free app, allowing basic access to anyone of age. However, there is also the option of a premium version that can be purchased for $99 per year.
The premium version of this AI dating app allows users to engage in more romantic and sexual conversations with their chosen avatars, something that may be beneficial to someone wanting to improve their skills in building intimacy.
Upcoming features announced for Blush include the creation of a library of curated advice articles on dating and relationships, the ability to create your own character, and the integration of reply suggestions to help people strengthen their conversational skills.
Blush Provides an AI Dating App Laboratory Setting
Ultimately, Blush provides users with the ability to strengthen their communication and relationship skills. While many people may use it for this purpose, there appears to also be a user base that will opt to use it as a virtual companion capable of engaging in sexual discourse. It remains to be seen the impact Blush will make or if it will be as popular as the company's original product, Replika. It should definitely make for an interesting addition to the online dating world.